Is there any real significance to how likely you're to get divorced, depending on where you live? Well, our team took off on a New Year quest to discover the answer! We found out in which regions of England you're most and least likely to get Divorced during the month of January.
Divorce capital(s) of England. 
Spoiler alert: it's South England! People living in this area of England are the most likely to consider getting a divorce in January this year.
However, it's also unfortunate news if you live in the East Riding of Yorkshire, whilst Yorkshire may not be the most likely region, the East Riding County has the highest search volume percentage for divorce in the whole of Great Britain – a staggering 0.14% of the area's population.
Whilst continuing our search we've discovered that South East, is well on its way to consolidating its title as England's divorce capital. 0.067% of their total 8,080 million population were searching for a divorce.
The county that easily stands out as the winner is Surrey, with 0.061% of its population searching for divorce-related queries. Followed by Buckinghamshire with 0.059%. Moreover, the South East county with the lowest search volume for divorce was West Sussex with only 0.049%.
Further research showed that the next most likely regions to consider divorce are:
Greater London – 0.066%
North West – 0.061%
East of England – 0.055%
East Midlands – 0.047%
Wales – 0.045%
South West – 0.036%
North East – 0.036%
Yorkshire & Humber are at the halfway point with 0.053% of their 5.454 million population searching for a divorce. On the other hand, Northern Ireland takes the last place, with the lowest search volume for divorce in the whole of  – only 0.029% of their 1,885 million population.
Although, the clear winner is East Riding. The county appears to be the place where people are MOST LIKELY to consider divorce, with a shocking 0.14% search volume.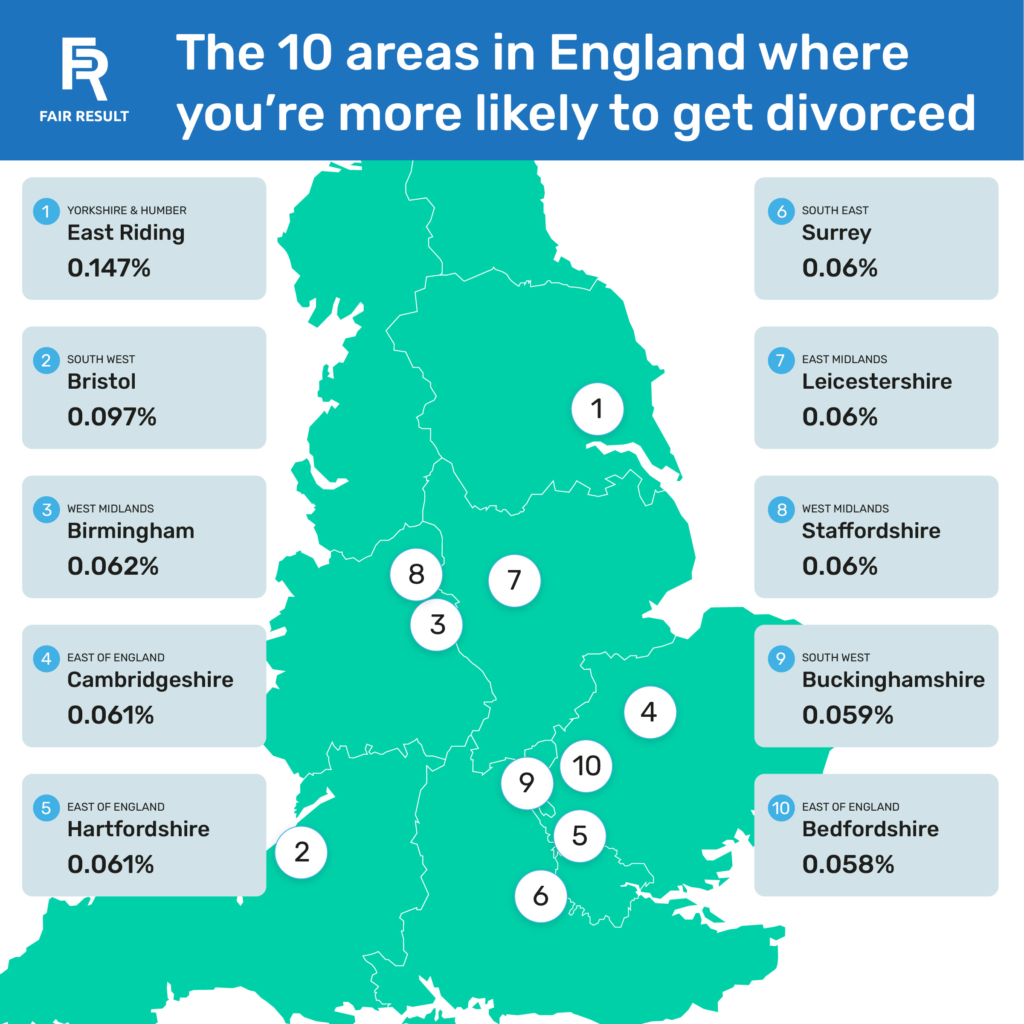 Research approach
We took some time away from being the UK's only 'true' fixed-fee divorce solution provider to discover the main areas, where people are more likely to consider getting a divorce this January.
The data was compiled from Google Keyword Planner, taking into account how increased search volumes lead to more enquiries with family-law solicitors.
On the other hand, we only considered the search volume from the Google search engine. This means that other search engines weren't included in our research and the statistics should be taken with a grain of salt.
All of this ties together with January as the 'Divorce Month' of the year.
Summary
Even though the results were quite close, the undisputed winner as the most divorced region in England turned out to be the South East with 0.067%. However, the East Riding of Yorkshire had the highest volume in the whole of the UK with 0.14% of their population searching divorce-related queries.
Does this mean you will get divorced if you're living in South East England or the East Riding? No, but there are definitely more people who are thinking about it!
Contact us
If we can help you with matrimonial, or any other legal queries you have, please don't hesitate to contact us for a free initial consultation.