Fair Result, a trailblazer leading family law firm, specialising in financial planning and divorce settlements, is proud to announce its strategic partnership with the Professional Footballers Association (PFA) to support and empower professional football players in their financial journey.
Recognising the unique challenges faced by athletes in managing their finances, Fair Result and the PFA have joined forces to provide comprehensive financial planning services tailored specifically to the needs and aspirations of all football players. This includes existing or retired players, male or female, at any level. This collaboration aims to equip athletes with the knowledge, resources, and support required to make informed financial decisions and secure their long-term financial well-being.
Through this exciting partnership, Fair Result and the PFA will offer personalised financial advisory services. The objective is to ensure players have access to expert guidance that aligns with their individual financial goals, enabling them to make sound financial choices throughout their careers and beyond.
Peter Marples, Director at Fair Result commented, "We are pleased to be able to partner with the PFA and to offer our services to its members.
"We know that football is a unique profession. We are a company rooted in a knowledge of the game, with the former Liverpool and England defender Mark Wright on our Board of Directors. We understand first hand some of the pressures and challenges that players can face.
"We are committed to driving innovation in the UK divorce market, with the fixed fee solutions offer being just one aspect of that approach."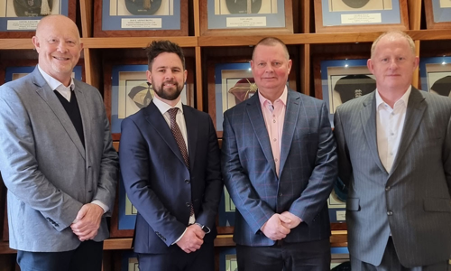 The PFA is dedicated to supporting the welfare and interests of professional football players in the UK, and this collaboration with Fair Result reinforces their commitment to holistic player care. By integrating financial planning into their comprehensive support framework, the PFA aims to empower players to make informed financial decisions, build sustainable wealth, and safeguard their futures.
Patrick Coyle, Chief Operating Officer at the PFA added "Through engagement with members we were aware of a demand for this kind of support, both during and after a player's career has finished."
"Fair-Result offer a fixed price service for all those who might be going through separations, a process which we know creates challenges for all involved. Providing some peace of mind around fees and financial commitments will hopefully help reduce some of that stress at what is already a difficult time."
The partnership between Fair Result and the PFA represents a significant milestone in ensuring the financial security and empowerment of professional football players. By combining legal expertise with tailored financial planning, this collaboration aims to create a positive impact on the lives of athletes, supporting their financial goals and helping them achieve long-term prosperity.
To find out more about our services, please visit www.fair-result.co.uk.